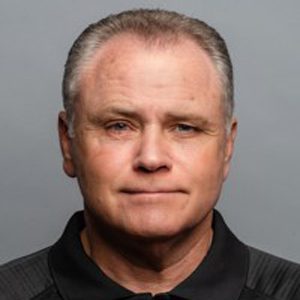 RICK MINTER
Coaching Lead/LB Skill Development Coach
Rick Minter has spent over 50 seasons in the world of football, beginning with four years as a letterman at Henderson State, followed by over 45 years coaching at the highest level of College and professional football. His career began as a young coach at his alma mater before progressing to Arkansas as a graduate assistant, where he would first work for coaching legend Lou Holtz for the first of three separate stints. He would then embark on a run as a rising assistant coaching Linebackers at Louisiana Tech, North Carolina State, and New Mexico State. In 1985, Minter received his first Defensive Coordinator opportunity at Ball State.
His growth at Ball State built a strong reputation and led to a reunion with Coach Holtz, now the Head Coach of Notre Dame, where Minter would serve as Defensive Coordinator for a pair of seasons in 1992 and 1993 where he began receiving national recognition as an elite, defensive architect and Notre Dame ranking as high as #2 in National polls.
He parlayed great success at Notre Dame into accepting the position of Head Coach at eventual national powerhouse Cincinnati, where he would serve from 1994 to 2003. His presence at Cincinnati helped bring the program forward, as he was responsible for helping lay the initial groundwork for the vaunted heights the program would eventually experience. At Cincinnati, Minter became the program's all-time leader in wins, appearing in 4 Bowl games, including the 1997 Humanitarian Bowl win which was the first Bowl appearance for Cincinnati in 48 years.
Following his tenure at Cincinnati, Minter followed with Defensive Coordinator positions at South Carolina, Notre Dame, Marshall, Kentucky, and Indiana State, as well as a three-year stint coaching Linebackers with Philadelphia at the highest level of professional football. Minter also spent time at Georgia State, Florida Tech, and Southern Miss, as well as in two professional football Spring Leagues. Minter rejoined the highest level of college football in February of 2022, signing on with Michigan as a Defensive Analyst. He continues to impart his tutelage as one of the brightest defensive minds in the game, having worked with some of the preeminent names in all of football. In addition to his role at Michigan, Minter now spends more time with his two sons, Josh and Jesse, and their families. Jesse is the current Defensive Coordinator for Michigan.