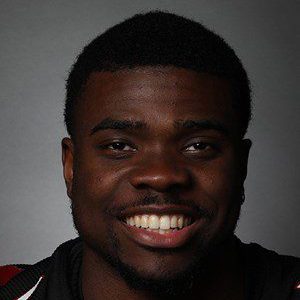 PJ MBANASOR
Football Operations
PJ Mbanasor is originally from Pflugerville, TX, and attended Hendrickson High School, where he established himself as one of the Top Prep players in the United States from 2011 to 2015. Mbanasor finished his senior season at Hendrickson with 47 tackles, one INT, 4 forced fumbles, 3 fumble recoveries, and 2 defensive TDs before being selected as a Semper Fidelis All-American participant.
Mbanasor was ranked a consensus 4-Star prospect by every National Recruiting service, a consensus Top 200 player in the country – ranking as high as #74, a consensus Top 30 CB in the country – ranking as high as #6, a consensus Top 35 player in the state of Texas – ranking as high as #12. He amassed an extremely impressive set of offers from the top schools in the nation; including Arkansas, Baylor, Florida, Louisville, LSU, Michigan State, Mississippi State, Missouri, Nebraska, Notre Dame, Ohio State, Oklahoma, Oklahoma State, Ole Miss, Oregon State, Penn State, Tennessee, TCU, Texas, Texas A&M, Texas Tech, UCLA, Wake Forest, Washington State, Wisconsin, and Oregon.
Mbanasor chose to take his official visits to Oklahoma, LSU, and Texas, where he ultimately chose Oklahoma to begin his collegiate career. Mbanasor played as a true freshman in 2015, seeing action in 10 games, including two starts at CB. He redshirted in 2016 at Oklahoma before electing to transfer to Louisville, where he sat out the season in 2017. Mbanasor returned to action and begin his career at Louisville in 2018. He made an appearance in 12 games, recording three starts, and finished the year with 18 tackles, including a pair of pass breakups, and 1 INT. Mbanasor finished his career at Louisville appearing in 2 games in 2019.