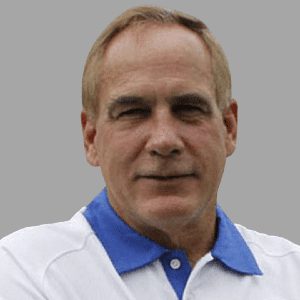 MIKE CASSITY
CB Skill Development Coach
Mike Cassity served as a player or coach in the College Football world for 42 years. Cassity's path began as a player at Kentucky, where he excelled as a two-sport athlete in Football and Wrestling, starting his final two seasons at Safety and finishing 3rd in the Conference Championship wrestling tournament at 190-pounds.
His coaching journey has taken him across the nation, working at premiere programs with some of the top coaches and players in the country. His path as a coach has seen him spend time at Morehead State, Northeast Louisiana, Western Kentucky, East Carolina, Georgia Tech, Cincinnati, Wisconsin, Baylor, Oklahoma State, Illinois, Louisville, Marshall, Kentucky during multiple stints, and Purdue. He has specialized in working with the Defensive Backs, but also spent 22 of his seasons as a Defensive Coordinator.
An illustrious career includes highlights such as being a part of the National Coaching Staff of the Year in 1991 at East Carolina after going 11-1 including a Peach Bowl victory, winning a Conference Championship at Illinois in 2001, and appearing in the 2002 Sugar Bowl, and winning a pair of Bowl games while helping rebuild Marshall. His stops as Defensive Coordinator at Louisville from 2004 to 2007 and Secondary Coach at Western Kentucky from 2013 to 2016 also yielded elite results.
At Louisville, Cassity led a defensive renaissance, ranking at the top of the nation in many categories, winning two Conference Championships, appearing in three Bowl games headlined by a 2007 Orange Bowl victory, being named Conference Recruiter of the Year, and a Top 25 Recruiters in the Nation. At Western Kentucky, Cassity contributed to back-to-back Conference Championships in 2015 and 2016, as well as three consecutive Bowl victories from 2014 to 2016.
At Louisville and Western Kentucky, he led units that emphatically improved in virtually every phase of play. All told, 11 of Cassity's 14 programs advanced to postseason play, going 9-2 in Bowl games and appearing in two 1-AA playoffs. Above it all, Cassity developed a national reputation as an elite recruiter, coaching technician, and developer of talent as he assisted 58 Defensive Backs in moving on to the highest level of professional football. Cassity has a daughter, Brooke, and three sons named Hunter, Skyler, and Braden. Skyler is the Defensive Coordinator at Abilene Christian, and Braden is a current Oklahoma State player who has played Tight End, Defensive End, and Special Teams.