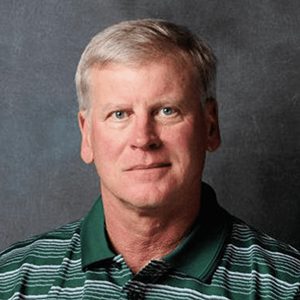 JIMMY BURROW
SAF Skill Development Coach
Jimmy Burrow has enjoyed a lifetime of football as a player, coach, and parent spanning over 50 years from his time as a youth to today. His college playing career was spent at Nebraska before being drafted in the 8th Round by Green Bay in 1976.
He transitioned into Canadian Professional Football where he played in three title games, winning one championship, as well as being selected to two All-Star teams over the course of five seasons spent with Montreal, Calgary, and Ottawa. He immediately moved into coaching, where he spent 32 years in College Football wrapped around 7 years at the High School level.
His coaching career saw him make stops at Washington State, Iowa State, Nebraska, North Dakota State, and most notably, Ohio, where he helped lead a renaissance for the football program as Defensive Coordinator working for the legendary Head Coach, Frank Solich. His leadership and development of defensive units helped rebuild Ohio into a yearly conference championship contender.
He was awarded the Conference Defensive Coordinator of the Year in 2009 and was one of the longest-tenured coordinators in all of College Football at the time of his retirement in 2019. Burrow has also long prided himself as a Football Dad, with oldest sons Jamie and Dan Burrow playing at Nebraska. His youngest son, Joe Burrow, has quickly established himself as one of the top Quarterbacks in professional football with Cincinnati after winning a College Football National Championship, a National Player of the Year award, and being the #1 Overall Selection in the 2020 Draft out of Louisiana State.